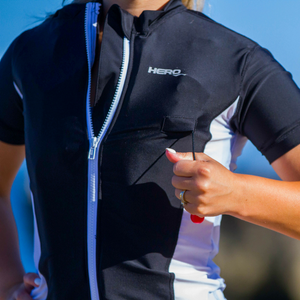 *Inventory will be available in 2 weeks from order date. Expected to be 6/14. 
The HERO Inflatable Rash Guard was designed for all water sports. It is a rashguard and ISO Certified Buoyancy aid all in one! This high-performance rashguard gives you all the benefits of a rashguard, including comfort, SPF protection, full range of motion. It is so comfortable you'll completely forget you have it on. 
In times of trouble, it will inflate into a buoyancy aid. Giving you full support around your head and neck as well and will rotate you from a facedown position. 
Features 
Approval: ISO 12402-5:2006 (Level 50) Buoyancy Aid
What's included: 1 x HERO Certified CO2 Rearming Kit - 1 x CO2 Cannister*, 1 x Rearming Clip, 1 x Water-Sensing Cartridge
Download the
User Guide Here
.
See our
Size Chart Here
. The HERO is meant to be a snug fit and if you are using the product in the water we recommend staying true to your size. If you plan on using it around water we recommend going 1 size up.
 *Because of various airline regulations we are only able to ship the CO2 rearming kits via ground and can only service countries we have a local warehouse facility, these include the United States and Australia.
Please note that the purchase price for locations outside of the United States and Australia without the CO2 kit is the same, as international shipping costs are significantly higher.
If you have any questions please contact us.
Everyday HERO's
Over the years we have built a strong community of HERO's around the world. All of us love the water.